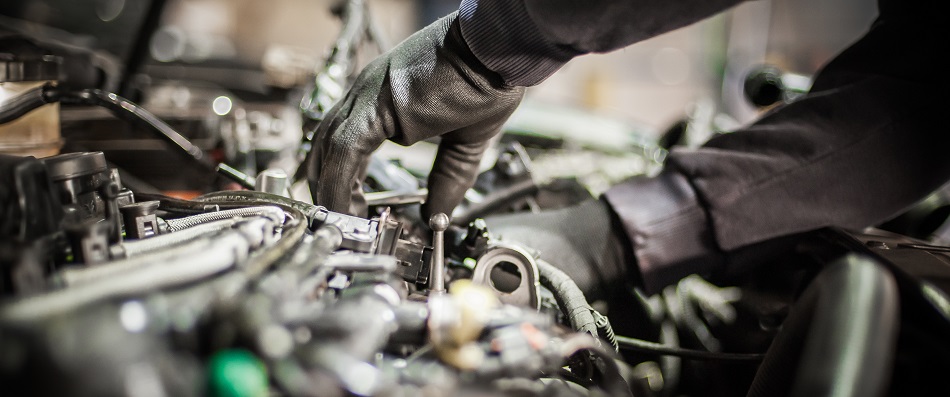 Every vehicle comes with a maintenance schedule that can be found in the owner's manual. While the factory maintenance schedule varies slightly for every vehicle, some commonalities can be found that serve as a rule of thumb for which parts of your car should be looked at and when. Automotive experts call this the OEM service intervals. The rule most commonly states that certain services should be performed on your car when your total mileage hits 50,000-kilometers, 100,000-kilometers, or 150,000-kilometer intervals. Whether you drive a Toyota, BMW, Honda, or Chevrolet, these rules can be followed universally. A service that should be performed regularly (approximately every 5,000 to 10,000 kilometers) is an oil change to keep your car's oil free of dirt and debris.
Maintenance at 50,000 Kilometers
Air Filter - Air Filter - A clogged air filter makes it harder for your engine to breathe, which negatively impacts vehicle performance. Getting your air filter changed every 24,000 to 48,000 kilometers is ideal; if you live in a dusty environment, the average lifespan is every 24,000 kilometers.
Fuel System Service- Over time, buildup forms on your vehicle's fuel system parts which can cause the system to slow down. This is why it is so important to periodically bring your vehicle to KEAN Auto Services in Courtenay.
Maintenance At 100,000 Kilometers"
Battery - While the "life expectancy" of a car's battery is measured in time, not miles, the average battery lasts around four years, in which the average driver will drive around 80,000 to 100,000 kilometers. Your battery is essential for keeping all electrical parts of your vehicle running smoothly. At KEAN Auto Services, we will perform a full electrical system test to determine the current state of your battery.
Brake Fluid - Your brakes are usually engaged through a hydraulic system that can be compromised if there is corrosion from the brake components, which can result in copper contamination. This lowers the boiling point of the brake fluid, turning it to gas, which is compressible. This leads to a "squishy" brake pedal. Because of this, replacing your brake fluid periodically is important.
Brake Pads - Brake Pads - AA good set of brake pads can last for up to 80,000 kilometers. They are manufactured to start making a noise when the pads have worn past their optimal thickness when they need to be replaced.
Brake Rotors - - Because your brakes work by squeezing the brake pads against metal discs (the rotors), rotors get subjected to a lot of heat, which causes them to warp over time if they get too thin or overheat. You can come to KEAN Auto Services in Courtenay for a brake rotor replacement.
Coolant - A mix of coolant and water flows through your radiator to cool your car, which allows fresh ambient air to passively cool the coolant, which recirculates back through your engine in order to keep it functional at its optimal temperature. If you lose too much coolant (whether it be because of a small crack in the hose or a water pump issue), the engine will overheat, causing severe damage. Because of this, getting your coolant replaced periodically is essential.
Transmission Fluid - Low transmission-fluid levels (potentially caused by a leak) will cause excessive wear of the internal components. If you have a manual transmission, plan to change out the transmission fluid every 50,000 to 100,000 kilometers. If you have an automatic transmission, plan to change the fluid out every 50,000 to 160,000 kilometers, depending on the conditions you drive under.
Maintenance At 90,000 Miles
Hoses - The hoses in your car carry coolant, but as the rubber ages, it starts to wear down. As your mileage approaches the 150,000 kilometer mark, getting your hoses replaced to prevent them from swelling and/or leaking, which can cause severe damage to your vehicle, is crucial.
Power Steering Fluid - Low power steering fluid (potentially caused by a leak) may cause hard steering or excessive noise when you turn the wheel. Plan to flush and replace your power steering fluid periodically or when problems arise.
Spark Plugs/Ignition System - The frequency at which your spark plugs need to be replaced depends on what kind of spark plugs are used as well as the company that manufactured them.
Timing Belt -If your vehicle is equipped with a timing belt and something goes wrong with it, your engine's performance and functionality could be compromised. Because of this, it is important to pre-emptively get your timing belt replaced every 150,000 kilometers or so.
Your Quality Shop for Factory Recommended Maintenance
"Look no further than KEAN Auto Services in Courtenay, to fulfill all your auto repair needs. We've been fixing cars since 1974, and our expert technicians have decades of experience and can take care of your vehicle no matter the model or make. Our team is dedicated to providing a top-notch customer experience and will make sure any issues with your vehicle are fixed as soon as possible.
Reasons You Should Do Business With Us:
Transparency
Honesty
Integrity
We are Experts
Years of Experience
If you are in or near the Comox Valley, don't hesitate to schedule an appointment with KEAN Auto Services today! We have a review score of 100 based on reviews from 287 satisfied customers. You can schedule an appointment with us online at https://keanauto.ca/ or give us a call at 250-897-3643. KEAN Auto Services - Quality Auto Repair for the Comox Valley since 1974.